The Rule 5 draft was completed on Thursday and the Braves were unusually busy, taking a player in each the major league and AAA portions, while losing a former top prospect.
First, we say good bye (tentatively) to J.R. Graham. A fourth rounder in 2011 out of Santa Clara University, Graham was one of those guys that Frank Wren and his scouting team were hoping could just stay healthy. In his first full season, 2012, he had wonderful numbers while pitching for both Lynchburg and Mississippi. At his best, Graham had great velocity with huge natural sink and good secondary offerings that made him more of a pitcher compared to some of the throwers in the minors. After 2012, he was a Top 100 prospect in both Baseball America and Baseball Prospectus' eyes.
Then came an injury-riddled 2013 and a woeful 2014 campaign where his velocity and sinking action was considerably diminished. He went from velocity that topped off at around 100 mph to struggling to reach 92 within the span of two years before his 25th birthday. Of course, we wouldn't be saying good bye to him if he still had the velocity.
He'll have to make the Twins roster, which recently added another ex-Brave I need to profile in Ervin Santana or the Braves will certainly take him back (or work a trade if the Twins like him too much to let him go).
Meanwhile, the Braves added a pair of players. First, let's talk about Steven Rodriguez, a catcher from the Arizona system. The former UCLA product has never hit, but does possess a good arm behind the plate and appears apt at receiving pitches. He provides a little depth at Gwinnett, but not much else. Still, I'm sure some of the pitchers at Gwinnett will appreciate his arm.
The more interesting pick was pitcher Daniel Winkler. Not to be confused by the knife-maker of the same name, who may or may not be starring in the Dr. Pepper Ten commercials, Winkler was a guy climbing the ladder rather quickly in the Rockies system before last June's injury troubles put him under the knife. The 2013 minor league strikeout king was 12 starts into a great year with AA Tulsa that included a one-hit, double header shortened, shutout with ten Ks. In a system that already possessed two big pitching prospects, Winkler was outpitching them before his injury.
But there was a reason Winkler was drafted in the 20th round and didn't get much love before the season as a big prospect, despite leading the minors in strikeouts in 2013. It's also probably one of the biggest contributing reasons he would undergo Tommy John surgery. His delivery is ugly. Super ugly. Like, this ugly:
Courtesy: milb.com
For some video, you can click here for a clip from his time with Tulsa this year. His numbers are tremendous and the Braves likely see him as a bullpen option, especially in regards to 2016, but that may be one of the ugliest "inverted W's" I've seen since Anthony Reyes.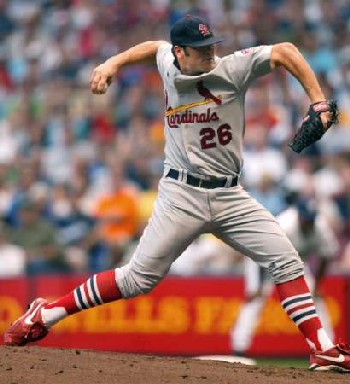 Courtsey: chrisoleary.com
For one or two seasons, maybe the Braves get something out of Winkler. But his chances for sustainable success in the major leagues looks considerably small. In fact, I would be shocked if he doesn't have another Tommy John surgery. Or two. That delivery is just asking for issues.
Still, worth a shot, especially as a forward-thinking move toward 2016, but I would have thought the Braves would get more out of a guy with more of a chance of helping them now like Zach Borenstein or Jed Bradley, who would have a lower ceiling, but a better chance of giving the Braves something.